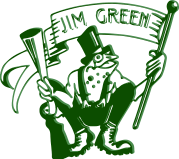 JIM GREEN FOOTWEAR
The legend was born
Jim Green Footwear was born out of humble beginnings, in a garage in New Hanover in 1992, with the idea in mind of making a boot that lasts and lasts. With only a few styles handcrafted to start, Jim Green soon gained a reputation amongst the local community and lived up to its name of being tough, rugged, and able to go the distance. It wasn't long before Jim Green boots started to find their way into cities countrywide and, soon, Jim Green grew to have a healthy product range, producing 20 pairs per day.
The name Jim Green comes from a sneaky little frog that hangs near the river's edge. This frog is used, by questionable fishermen at local fly-fishing competitions, to illegally hook the winning catch.
With the popularity of Jim Green growing, it soon found itself a new home on the Midlands Meander. Due to the increase in demand, the manufacture of the boots was handed to Crouch Footwear in Pietermaritzburg. With many years of shoemaking experience, they perfected the art of making a pair of Jim Green boots and immediately introduced safety and specialist footwear to the range. It was there that Jim Green gained a strong footing in the marketplace and became a legend in its own right for the durability, comfort, and quality of their products. Crouch Footwear eventually acquired Jim Green in 2008.
Today, Jim Green is still South Africa's number one locally-made safety and hiking boots, being worn by our country's major telecommunications groups and large corporations while remaining a local favourite amongst our farmers.